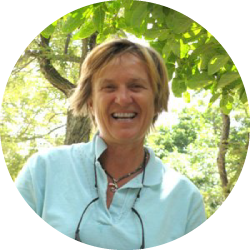 MIRIAM BRANCATO, BIS, BCTMB
Nationally Board Certified Massage Therapist
Virginia Licensed Massage Therapist
Miriam Brancato has been a licensed massage therapist since 1990. She is owner and operator of Vital Touch Massage with offices in Radford and Floyd, Virginia.
After graduating from the Virginia School of Massage in Charlottesville in 1990, she went on to study Russian Sports Massage, Advanced Sports Massage, Craniosacral Therapy, Reflexology, Equine Massage, Infant Massage, Trager® principles, Medical Massage, Orthopedic Massage, Myofascial Release and other modalities. Read more about these bodywork styles.
In 1997 she graduated from James Madison University with a bachelor's degree in Integrative Wellness and Fitness.
Miriam has a Certification in Pastoral Studies, Loyola University, inspired by her decade of service with Mother Teresa's Missionaries of Charity, Contemplative Branch in the South Bronx, NY, Washington, DC, Chicago, and Brooklyn, NY.
Board Certification in Therapeutic Massage and Bodywork (NCBTMB)
Board Certification in Therapeutic Massage and Bodywork is the highest voluntary credential a massage therapist can obtain within the profession—it is above and beyond entry level state licensure. Read more about the National Certification Board for Therapeutic Massage and Bodywork.